Nach einem intensiven Jahr mit 4 Wochenmodulen, einer umfangreichen Diplomarbeit und einer bestandenen Prüfung durften im November 2014
33 «diplomierte Verbands- und NPO-ManagerInnen» ihr Diplom entgegennehmen.
Über 750 Führungskräfte aus Deutschland, Österreich, Südtirol und der Schweiz absolvierten bereits den Diplom-Lehrgang. Im Jahr 2014 kamen 33 weitere dazu. Ziel ist es, die neuesten Theorien, Techniken und Instrumente des NPO-Managements kennenzulernen und die Führungsmethoden in konkreten Problemlösungsfällen anzuwenden.
Im Rahmen der Abschlussfeier am 8. November 2014 im altherrschaftlichen Saal des Aigle Noir in Freiburg/CH wurde das Geleistete gewürdigt und beim anschliessenden Essen gefeiert. Neben dem Diplom bleibt vor allem eins: Die Erinnerung an eine dynamische, interessierte und engagierte Gruppe, die viele Freundschaften und wertvolle Kontakte hervorbrachte.
Wir gratulieren den diesjährigen Absolventinnen und Absolventen herzlich.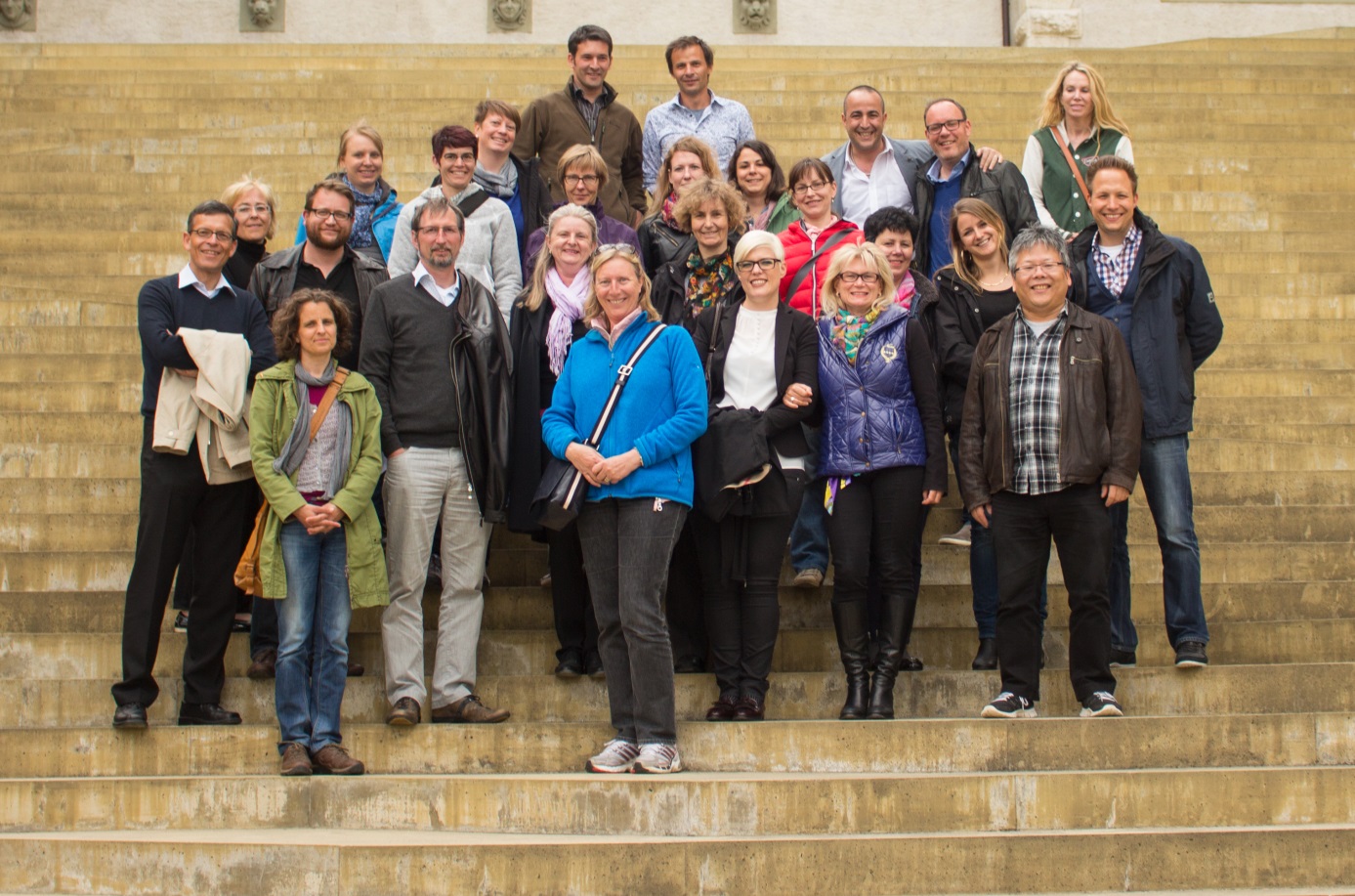 Absolventinnen und Absolventen:
Cornelia Beutler, Suva Basel
Nadja Blanchard, B'VM
Petra Bolfing, zeka zentren körperbehinderte aargau
Martin Brunner, Missio
Friedrich Dallamassl, Wirtschaftskammer Oberösterreich
Marlen De Lorijn, Pigna
Romy Geisser, OdA Gesundheit beider Basel
Christian Hadorn, Wanderwege Schweiz
Sandy Hagenah, Niederrheinische IHK
Corinna Hauri, World Association of Girl Guides and Girl Scouts
Karin Jordi, ATAG Wirtschaftsorganisationen AG
Thilo Klingebiel, Verband der Deutschen Auslands schulen
Gabriele Knüsel, Personalverband der Suva/UEPV
Kirsten Kronberg, Industrie- und Handelskammer Stade
Heike Lorenz, Demeter e.V.
Dorothee Miyoshi, Freiwillige Schulsynode Basel-Stadt
Maja Mylaeus, Spitex Verband Schweiz
Thomas Näher, S-WIN Swiss Wood Innovation Network
Ursina Pajarola, Kalaidos AG
Judith Rohrer, Klinik Selhofen
Judith Safford, Vétérinaires Sans Frontières - Suisse, Stanley Thomas Johnson Foundation, npg AG
Roberto Sansossio, Fachstelle Sucht Zürich/Föderation Schweizer Psychologen
Horst Scheurenbrand, Deutsche Bibelgesellschaft
Annemarie Schürch, Justiz-, Gemeinde- und Kirchendirektion des Kantons Bern
Elvira Schwegler, Hotel & Gastro Union
Simon Schweizer, Bernisches Historisches Museum
Barbara Siri, Landesrettungsverein Weisses Kreuz
Jonas Staub, Verein Blindspot
Holger Steffe, Stiftung Heilsarmee Schweiz
Bettina Tanner, Schweizerisches Rotes Kreuz, Kanton Bern
Marion Tarrach, Tarrach Kommunikation
Jan Wenger, Forum-lichtblick.ch
Pia Zeugin, Paul Schatz Stiftung Basel und Edith Maryon Stiftung Basel