The iimt celebrated its 20 years anniversary on Thursday the 1st of October; around 150 guests gathered in the NH Hotel in Fribourg. Government and University representatives, Founding and active members of the institute council and advisory board, former & current students, subject area coordinators and lecturers as well as partners and donors, former & current staff and colleagues, all friends of the iimt where present in order to celebrate this jubilee.
After the opening speech of the iimt Director, Prof. Dr. Stephanie Teufel, who narrated the iimt's foundation's history, Dr. Beat Vonlanthen, State Councilor Fribourg, explained the importance of innovation and education in the economy. Prof. Dr. Astrid Epiney, Rector of the University of Fribourg, addressed to the iimt her best wishes, and finally, Walter Steinlin, President of the iimt Institute Council, explained how basic technologies grow exponentially.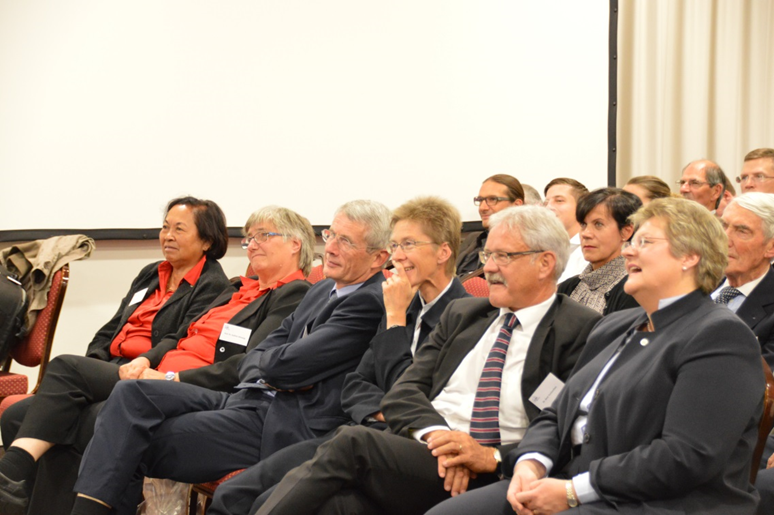 von l.n.r: Prof. Dr. Stephanie Teufel, Direktorin iimt, Dr. iur. Beat Vonlanthen, Volkswirtschaftsdirektor,
Prof. Dr. Astrid Epiney, Rektorin
Following those official greetings, the guests were delighted by the speech of Prof. Dr. Kathrin Altwegg, who demonstrated how small and insignificant we are in the universe – "we are only stardust!" The time travel continued with Dr. Jocelyne Imbach, former Vice-Director, who brought the audience back in the past, telling some funny and interesting stories about her time at the iimt. Before closing the ceremony with a magical highlight, Prof. Dr. Teufel took a look into the future - into the crystal ball.
The guests had afterwards the opportunity to pamper themselves with a good glass of wine, a refreshing beer, some food, and to share some good memories. They also took the opportunity to see some highlights from the past and present by visiting the iimt poster exhibition.
It was a pleasure to see so many friends of the iimt attending this magical event in a great atmosphere. The iimt is looking to achieve its goals and be a successful competence center for the next 20 years.