The university's incubator coaches again 7 students with innovative business ideas. Started 2 years ago, ideas@iimt becomes an important entrepreneurship & innovation promoter on the campus, thank to students' success:
Jedidja Inhelder's app is currently tested by potential customers. Jedidja's sponsor, Gassmann Media AG, also benefits from his commitment and will gain new knowledge on the customers "mobile" behaviour.
Another promising idea is "Wurmturm". Its owner, Andreas Barmettler, not only won the business ideas@Fribourg2016 contest, but he already sold some examples of a stackable and intelligent worm farm. He is currently writing a business plan, improves the design and the functionality of the prototypes and prepares further steps to create his own business.
Siril Hermann's idea of "apiar.io" challenges the bee mortality caused to destructive valora mites with mechanical and ICT help rather than with chemical solutions. Only a few valora mites can wipe out a bee colony and have therefore catastrophic consequences on the ecosystem. Siril is programming a mite's detection software that allows detecting mites before they enter the beehive. First tests of the software will follow soon.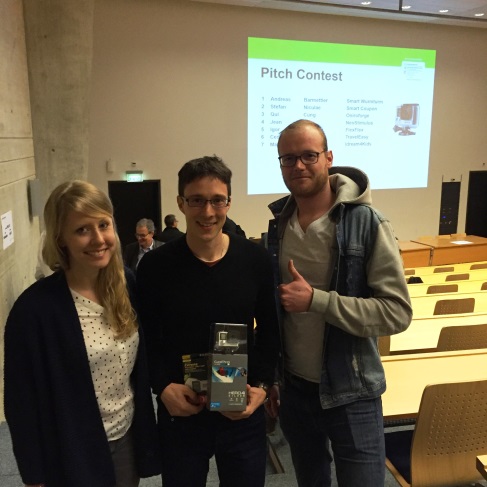 Jasmin Gungl, Andreas Barmettler, Yves Hertig
Antoni Wiercoch's idea of "Fishstat" will revolutionise fishing in Switzerland. Not only he wants to digitalise the whole bureaucratic tasks of anglers, his app would allow the administration to receive day-to-day data about anglers' behaviour rather than just annual reports of them. Such an eGovernment approach stimulates efforts to counter overfishing in Switzerland's lake and rivers.
Three other business ideas found their place in the incubator's programme: a new vending machine, a new didactic tool for students, and a new approach for food distribution.
 ideas@iimt shows therefore once more that innovative ideas not only come up in large universities, but in students innovative and critical minds. The coaches from the iimt - Chair of Management in ICT - are persuaded that giving students an opportunity to plan and execute the first steps toward start-up creation is a need for the faculty's students. Proof is the current and past success stories.