Jérôme Chariatte erhält für seine Masterarbeit den «Master Thesis Award for Excellence - Practical Impact» an der diesjährigen Konferenz der European Public Relations and Education Research Association (EUPRERA) in Zagreb, Kroatien (26-28.09.2019). Die Arbeit mit dem Titel «Einfluss von Medienberichterstattung und Stereotypen auf das Landesimage» wurde unter der Leitung von Prof. Dr. Diana Ingenhoff geschrieben. Auf Grundlage der Agenda Setting Theory und News Value Theory, untersucht Jérôme Chariatte wie internationale Medienberichterstattung und Nachrichtenfaktoren die Einstellung gegenüber einem Land determinieren. Zusätzlich untersucht er den Einfluss von Länderstereotypen basierend auf aktuellen Forschungsergebnissen und verwendet ein neu entwickeltes fünf Dimensionen Modell des Landesimages. Die Arbeit zeigt das Zusammenspiel diverser Einflussfaktoren auf das Landesimage und ermöglicht Praktikern im Bereich der öffentlichen Diplomatie und der strategischen Kommunikation die Bildung von Länderimages besser zu verstehen und dementsprechend Kommunikationsstrategien effizienter aufzubauen. Bewertet wird die Studie als "herausragende wissenschaftliche Arbeit, die zu einer aktuellen Diskussion im Forschungsbereich beiträgt und neue Erkenntnisse auf der Grundlage eines ausgefeilten Forschungsdesigns bietet».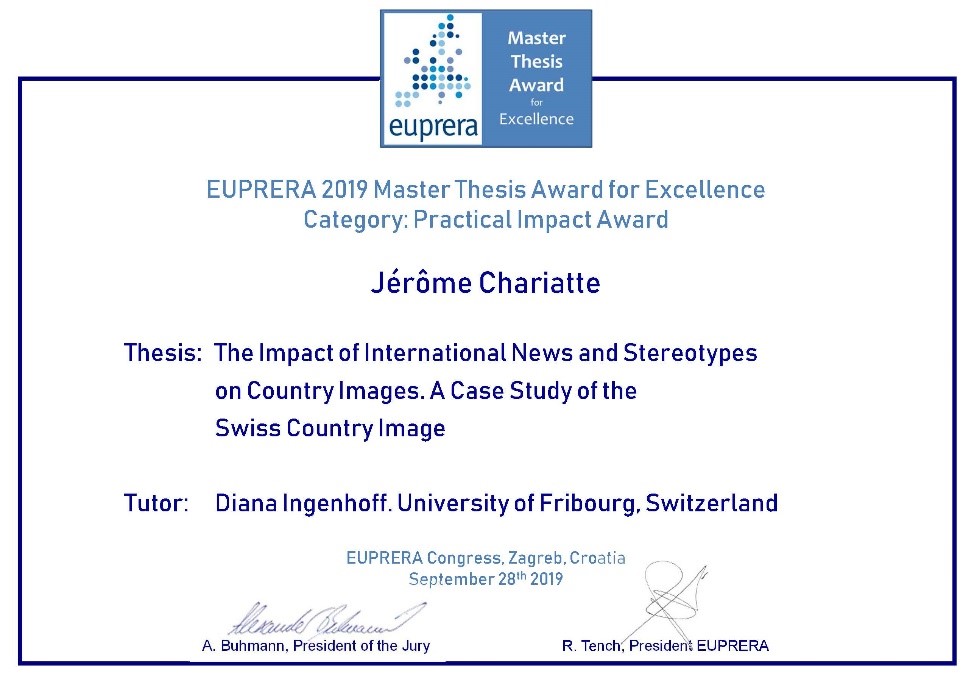 Freiburger Nachrichten-Preis für Giada Calamai. Am Freitag 4. Oktober 2019 wurde während der Diplomfeier der wirtschafts- und sozialwissenschaftlichen Fakultät Giada Calamai mit dem Preis der Freiburger Nachrichten für den besten Abschluss im Master in Kommunikationswissenschaft und Medienforschung ausgezeichnet! Giada Calamai ist seit Januar 2019 am Lehrstuhl für Organisationskommunikation und Kommunikationsmanagement bei Prof. Dr. Diana Ingenhoff als Doktorandin und Forschungsassistentin tätig. Der Titel ihrer Masterarbeit lautet «Country Image Dimensions on Twitter: Switzerland, Austria, and the Netherlands in Comparison».

Michelle Möri, Perina Siegenthaler und Alexander Ort erhielten den "Best Proposal Paper"-Award (best student paper) für ihren Artikel:  The influence of type of narrative voice and addressing style on reactance to health campaigns.Der Preis wird am 14. November 2019 an der European Conference on Health Communication 2019 in Zürich übergeben.