Dans le cadre du cours de Master de "Corporate Governance", Dominique Biedermann, (docteur honoris causa de la Faculté des SES en 2013, ancien président de la Fondation Ethos et membre indépendant de conseils d'administration) a tenu une conférence intitulée "Active exercise of shareholder rights in listed companies". Il a tout d'abord souligné l'évolution du capitalisme qui est de plus en plus dominé par les investisseurs institutionnels, comme les caisses de pension et les fonds de placement. Il a ensuite exposé les différents canaux par lesquels les investisseurs peuvent exercer leurs droits, tout en soulignant l'importance des contacts informels entre les actionnaires importants et la direction des entreprises. Il a plaidé pour un engagement plus actif des investisseurs institutionnels et montré quelques exemples d'alliance de tels investisseurs afin d'avoir plus de poids auprès du management sur des thèmes comme la digitalisation ou le respect de l'environnement.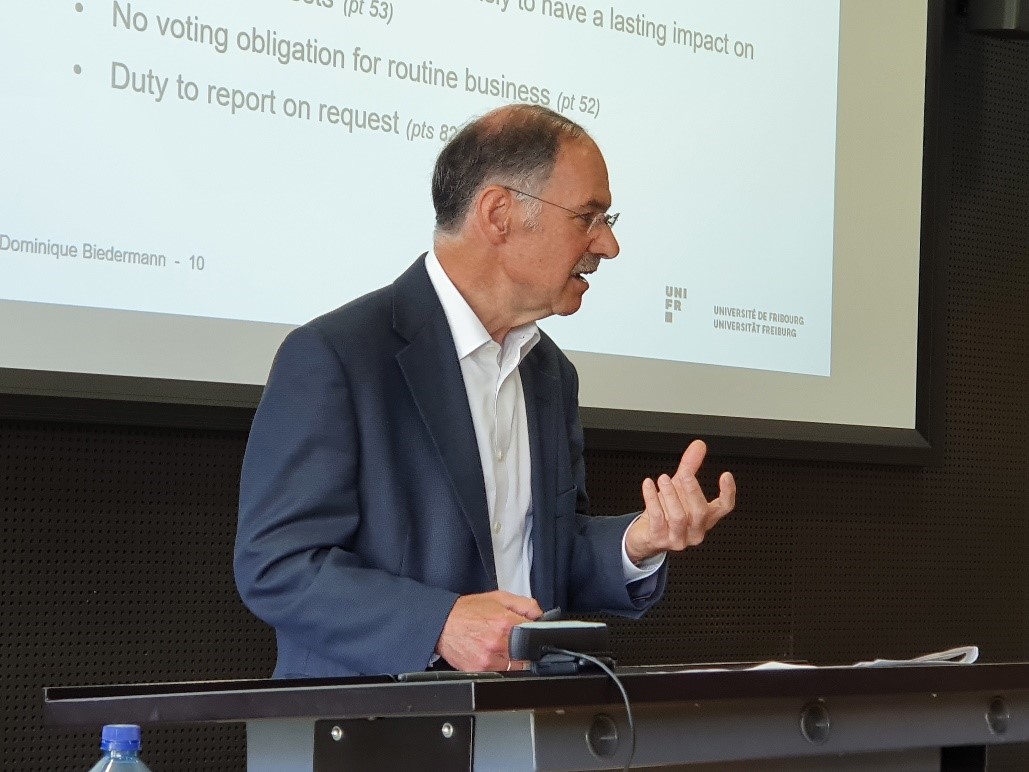 En février 2022, le Professeur Dušan Isakov a donné une série d'interviews à la radio sur le thème de la Bourse dans l'émission "Dis, Pourquoi ?" de La Première sur la RTS. Cette série de 5 émissions peut être réécoutée ici (https://www.rts.ch/audio-podcast/2022/audio/la-bourse-1-5-25802891.html).
Dans le cadre de ses recherches sur le marché coréen, Romain Ducret a participé à la Conference on Asia-Pacific Financial Markets. Organisée à Séoul, cette conférence rassemble chaque année les chercheurs coréens actifs dans monde entier. Romain a eu l'opportunité de présenter ses travaux à la World Finance Banking Symposium (WFBS) à Budapest en fin d'année ainsi que la Financial Markets and Corporate Governance organisée par la Monash Business School (Melbourne, Australie) en avril dernier. Pour des raisons sanitaires, ces conférences se sont tenues en ligne."